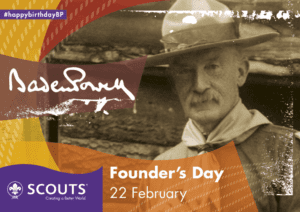 On Tuesday 22 February Scouts and Scouting volunteers around the world will be celebrating Founder's Day,  which is the birthday of Scouting founder Lord Robert Baden-Powell.
In South Africa events will take place on the weekend of 18 to 19 February to honour the achievements of our members over the past year. Gold Star Meerkats, Leaping Wolves, Springbok Scouts, BP Awards, Service Awards and Merit Awards, and other forms of recognition will be bestowed upon our members who work tirelessly to be prepared and to make a difference within their communities. We refer you to your regional communication platforms for more information.
In founding the Scout Movement, Baden-Powell believed that the Scout Method would go far to replace fear with compassion, and misunderstanding with sympathy. He felt that by training and empowering young people to expand their horizons, gain valuable life skills, acquire sound morals and values, and learn by doing, in an atmosphere of kindness and encouragement, we could all learn to work together to leave this world a better place than how we found it. Today, the Scout Movement continues to create positive change.
#scouts #scoutssouthafrica #foundersday #beseen #creatingabetterworld