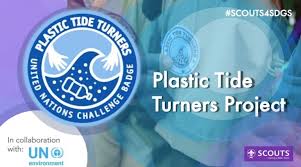 Plastic pollution in our seas and local communities is dire.  In November SCOUTS South Africa will be launching the Tide Turners Plastic Challenge in partnership with the United National Environment Programme and the World Organisation of Scout Movements.
The initiative aims to mobilise 10 000 young people aged 7 to 17 to take action to reduce plastic waste in their lives, at their schools and within their community. The Tide Turners Plastic Challenge Toolkit provides practical programmes that encourage a behaviour change that could have a long-lasting impact on the living conditions within many South African communities. The programme also ties into the Scouts4SDG initiative SCOUTS South Africa has been running as part of the global agreement between World Scouting and the United Nations.
The toolkit includes an information booklet developed by WOSM and pre-packaged "programmes on a plate" that enable adult volunteer leaders to implement programmes without being dependent on too many resources or online access.
Over 500 Tide Turners booklets will be printed and distributed to adult leaders who work in rural or disadvantaged communities in Mpumalanga, KwaZulu-Natal, the Eastern Cape and the Western Cape. The toolkit will also be made available on a dedicated Tide Turners Plastic Challenge page on the SCOUTS South Africa Resource Wiki for download and usage by all other Scouting volunteers and youth.
Over 10 000 children aged 7-10 (Cubs) and 11-17 (Scouts) will participate in the practical implementation of the programme through outdoor small groups meetings and local community projects. All actions will include stringent social distancing and safety precautions in line with the South African Governments' Covid-19 regulations, and SCOUTS SA's Covid-19 Safety Protocols. On completion of the programme each youth member will receive a Tide Turners badge to remind them of their commitment to environmental conservation and the reduction of their plastic usage and waste.
In addition to the materials, 7 training workshops for adult leaders will be facilitated in the identified provinces. A training manual will be developed with practical exercises to assist comprehension and implementation of the Tide Turners programme by adult leaders.
For over 111 years SCOUTS SA has been preparing children and youth to be independent people who are self-fulfilled and confident individuals who play a constructive role in society. The age appropriate experiential learning programmes focus on leadership training, life skills and personal development. The adult training programmes educate and equip people with practical leadership, communication and vocational skills that are relevant and applicable in their daily lives and circumstances.
Furthermore, SCOUTS SA encourages members to undertake projects which address poverty, inadequate education and the lack of employment opportunities, biodiversity conservation, climate change, the HIV/AIDS pandemic and more recently Covid-19 Awareness.
Providing materials and training to Scouting members enables them to plan and implement projects that address specific needs in their direct communities and teaches them how to make a real difference (aligned with SDG's and NDP).
For more information please email pr@scouts.org.za.
-End-